Home sales in the Eagle Idaho real estate market for January through June 2012 were fairly consistent with 2011 sales, although May and June of 2012 showed decreases over 2011 sales of 23.2% and 6.6%, respectively.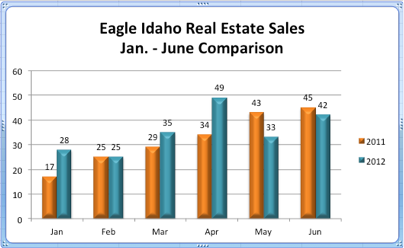 The most significant differences in the sale of real estate in Eagle Idaho are found in the decreasing number of foreclosure sales.  As illustrated in the graph below, in January 2012, there were 6 Eagle Idaho foreclosures compared to 8 in 2011. By May 2012, only 1 of the 33 Eagle ID real estates ales was a foreclosure, and in June only 3 of the 42 sales were foreclosures, much lower than the 10 of 43 and 15 of 45 recorded in May and June 2011.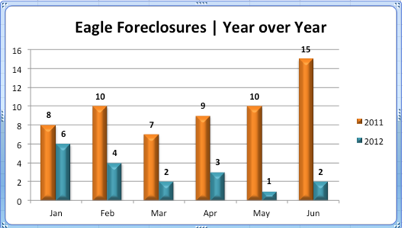 As a comparison, the market share of foreclosures on the Eagle Idaho real estate market for the months of January through June, 2009 to 2011, have generally been between 24% and 55%, with a high of 55% in January 2010 and a low of 24.1% in both May 2010 and March 2011. In 2012, though, we see a totally different trend. In January 2012, the market share of Eagle Idaho foreclosures was 21.4%. Although this represents the highest market share in 2012 to date, it is still below the lowest market share recorded for January through June for the last 4 years.  Since January there has been an almost steady decline to a record low foreclosure market share of 3.0% in May and 4.7% in June.