If you have your heart set on owning Eagle, Idaho real estate, you may be able to take advantage of home buyer incentives from Freddie Mac and Fannie Mae.
Info About the Home Buyers Incentives From Freddie Mac
Here's how the Freddie Mac program works. These incentives are to encourage people to buy condos in one of 27 states in the Freddie Mac program. You can get $500 from Freddie Mac to be used toward a home warranty, condo association dues or flood insurance premiums for offers submitted from February 18, 2014 and April 15, 2014.
The homes for sale in Eagle, Idaho that would not be eligible for this home buyer incentive would be houses bought with the intention of making them investment properties. Auction homes and bulk sales also don't qualify for the program.
Idaho is one of 27 states that are eligible for these Freddie Mac home buyer incentives. Other states include Michigan, Utah, New Jersey and Washington.
Contact us for a list of Eagle, ID homes  for sale that qualify for the Freddie Mac program.
Other Home Buyer Incentives ~ Other Ways to Own Eagle, Idaho Real Estate
In related news about home buyer incentives, Fannie Mae is offering to help with closing costs for REO homes. The program is part of its FirstLook program.
If you opt for a program like this, whether you buy one of the homes for sale in Eagle, Idaho or choose a home in neighboring cities like Meridian or Boise, you can receive up to 3 1/2% of the final sales price taken care of in your closing costs.
However, you have to jump to take advantage of this home buyer program. You have to make an offer by March 31 and close on your new home before May 31, 2014.
These programs could be your first steps to buying a house in Eagle, Idaho or a home for sale in the surrounding area.
Home sales in the Eagle Idaho real estate market for January through June 2012 were fairly consistent with 2011 sales, although May and June of 2012 showed decreases over 2011 sales of 23.2% and 6.6%, respectively.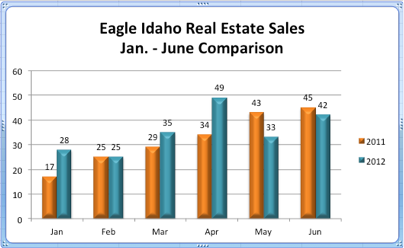 The most significant differences in the sale of real estate in Eagle Idaho are found in the decreasing number of foreclosure sales.  As illustrated in the graph below, in January 2012, there were 6 Eagle Idaho foreclosures compared to 8 in 2011. By May 2012, only 1 of the 33 Eagle ID real estates ales was a foreclosure, and in June only 3 of the 42 sales were foreclosures, much lower than the 10 of 43 and 15 of 45 recorded in May and June 2011.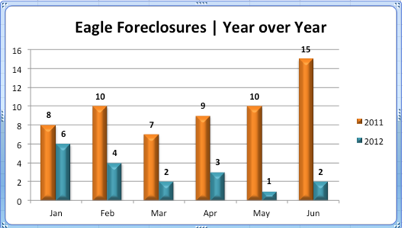 As a comparison, the market share of foreclosures on the Eagle Idaho real estate market for the months of January through June, 2009 to 2011, have generally been between 24% and 55%, with a high of 55% in January 2010 and a low of 24.1% in both May 2010 and March 2011. In 2012, though, we see a totally different trend. In January 2012, the market share of Eagle Idaho foreclosures was 21.4%. Although this represents the highest market share in 2012 to date, it is still below the lowest market share recorded for January through June for the last 4 years.  Since January there has been an almost steady decline to a record low foreclosure market share of 3.0% in May and 4.7% in June.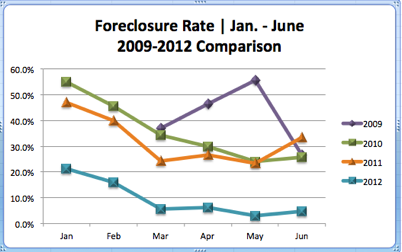 Eagle, ID real estate sales were strong beginning May 2011 but fell below 2010 levels in November and December of 2011.  The graph below shows the monthly sales in Eagle Idaho for 2011 compared to 2010.  Sales for the 3rd Quarter of 2011 rose 38% above 2010 levels but dropped 7% below 2010 levels for the 4th Quarter.  For the year overall, residential real estate sales for 2011 were the same as 2010.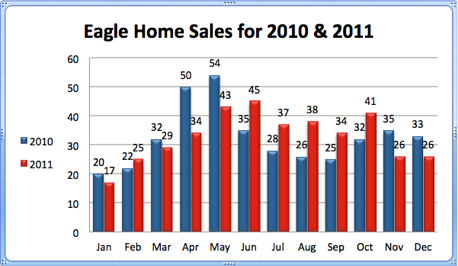 Although 2011 showed virtually no increase in the number of Eagle ID real estate sales when compared to 2010, the median home price in December 2011 was slightly higher than the median price in December of 2010.  As can be seen on the graph below, median home prices are trending upward, especially during the last quarter of 2011.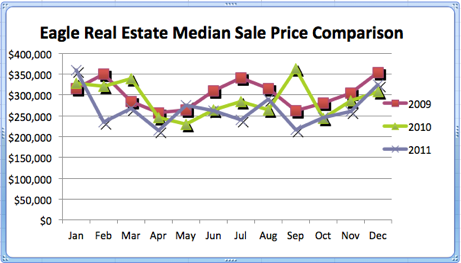 Another interesting trend in 2011 was the number of Non-Foreclosure sales compared to Eagle Short Sales and Eagle Bank-Owned property sales.  As depicted below, the majority of real estate sales in Eagle, ID for 2011 were Non-Foreclosures.  In fact, beginning in May, Non-Foreclosure sales accounted for more real estate sales than Short Sales and Bank-Owned properties combined.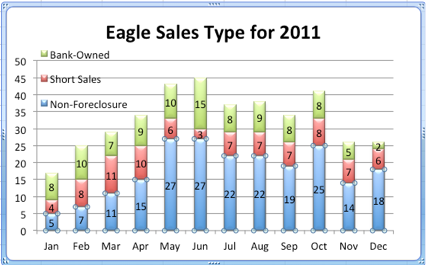 The Eagle ID real estate market surged in April as in other areas of the county as the first-time home-buyer tax credit deadline expired.  Sales were up 46% over last year with 21 non-foreclosure sales, 9 short sales, and 16 bank-owned sales.  These Eagle ID foreclosures accounted for 54% of the market share, down slightly from the 60% a year ago but above the last 13 month average of 52%.
The graph below shows how Eagle ID real estate sales have performed January through April over the last 3 years.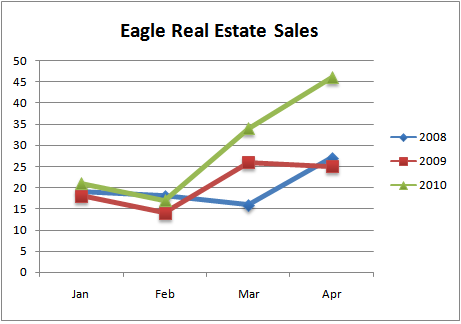 The chart below shows the market share of foreclosures in Eagle Idaho over the last year.  It should be noted that the months with a higher market share are also the months with stronger monthly sales.