Eagle, ID real estate sales were strong beginning May 2011 but fell below 2010 levels in November and December of 2011.  The graph below shows the monthly sales in Eagle Idaho for 2011 compared to 2010.  Sales for the 3rd Quarter of 2011 rose 38% above 2010 levels but dropped 7% below 2010 levels for the 4th Quarter.  For the year overall, residential real estate sales for 2011 were the same as 2010.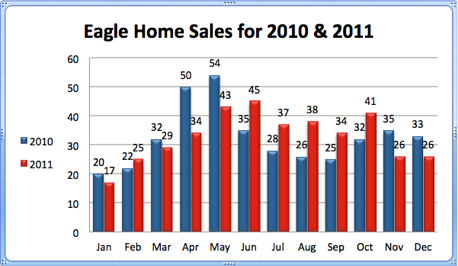 Although 2011 showed virtually no increase in the number of Eagle ID real estate sales when compared to 2010, the median home price in December 2011 was slightly higher than the median price in December of 2010.  As can be seen on the graph below, median home prices are trending upward, especially during the last quarter of 2011.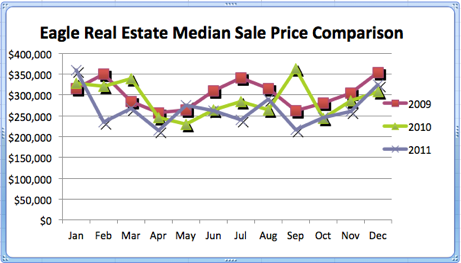 Another interesting trend in 2011 was the number of Non-Foreclosure sales compared to Eagle Short Sales and Eagle Bank-Owned property sales.  As depicted below, the majority of real estate sales in Eagle, ID for 2011 were Non-Foreclosures.  In fact, beginning in May, Non-Foreclosure sales accounted for more real estate sales than Short Sales and Bank-Owned properties combined.