Not long ago, I wrote about the challenges that homeowners and cit officials in Laguna Pointe (Eagle) were facing when it came to getting the Boise River Greenbelt through that subdivision. The issue is still raging on as KBOI News pointed out a couple of days ago, and the news site provided a recap.
Getting Up-to-Speed About Laguna Pointe in Eagle
To recap, many people who own Eagle, Idaho real estate in the neighborhood fear that the greenbelt will cut through their properties. When Laguna Pointe Subdivision was in its planning stages, the subdivision builders/ designers and the City of Eagle agreed that if the neighborhood came into being, the city had a right to put an easement to the Boise River Greenbelt in the neighborhood.
The problem? Apparently, the request for the easement was not filed properly with Ada County. Add to that, the Laguna Pointe Homeowners Association told KBOI that the easement was slated to run along the river, but the river itself has changed. So the city created an alternative path, but there's problems with that, too. People using the path are actually traipsing into people's backyards.
The matter is supposed to go before a judge on June 16th. Stay tuned.
Watch the video below to get a full recap of the issue thus far.
For those who love the recreational opportunities that parks like Eagle Island State Park offers, you'll be happy to learn that the City of Eagle or more specifically, the city's Department of Parks and Rec is considering a new sports complex.
Eagle Middle School = One Crowded Piece of Real Estate
According to KBOI2.com, coaches and parents have asked repeatedly for more play space. Sometimes up to 10 sports teams practice at Eagle Middle School on any given day, causing overcrowding. Or teams must go elsewhere to find play space, including church yards or even in other cities.
Parks and Rec Director Mike Aho has put together a plan for the Eagle City Council that calls for a task force to help develop the new complex. It would be a volunteer group consisting of a land developer, leaders of sports teams and other city members familiar with the parks.
Where Will You Find the Sports Complex on the Eagle City Map?
At the moment, the cost of the project is up in the air as is the location and how many fields the complex will add to the city. However, this development offers great news for the people looking at the homes for sale in Eagle, Idaho. Just like the city's medical services, popular restaurants and city markets, the addition of a sports complex would make playing and working in Eagle all the more attractive for those who live here.
The Boise greenbelt counts among the most important pieces of Idaho real estate, not only to the City of Boise, but also to the City of Eagle. At the moment, access to the bike path has become a bone of contention between some Laguna Pointe homeowners and city officials in Eagle.
What's at Stake for the Laguna Pointe Property Owners? And for the City of Eagle?
The issue is with three Laguna Pointe owners, who have property right on the Boise River and which the city would like use of to create a public access way to the Eagle section of the Boise greenbelt. The section of Eagle, Idaho real estate in question is an acre and a half stretch of Laguna Pointe property. It exists on the south side of the neighborhood and would be an East-West route for hikers, cyclists and other greenbelt users, according to the Idaho Statesman.
Because the city and the owners of the three Eagle, Idaho properties can't come to an agreement as to the use of the land, the city will start eminent domain proceedings against the property owners, which the Statesman cites as Jade Development, LLC, Laguna Pointe Homeowners Association and Premier Industrial LLC. The lawsuit will go to 4th District Court.
The City of Eagle is hoping to access 64K square feet of land, although city officials have stated that gaining access to the land in this manner was not the way they were hoping to go. There is a trail currently, but it's on private property, causing the friction between the Laguna Pointe property owners and the city.
Why the Challenges for This Section of the Boise Greenbelt
For those not 100% certain about what eminent domain is, Wikipedia defines it as an entity's power to take "private property for public use by a state or national government."
The issue for the homeowners, aside from the path cutting through land that is private property, is that they don't want the path to be paved and they would also like the trajectory of the path to move away from the homes along the Boise River and closer to the river itself.
Additionally, in a story last year on Fox News about the issue, Laguna Pointe property owners expressed that there were issues of privacy not only for their homes, but the 43-acre private lake that sits at the heart of Laguna Pointe Subdivision.
See more of the Fox News story about Laguna Pointe in Eagle, Idaho and about the greenbelt issue by watching the news video below:
Information not guaranteed.
Anyone who owns a piece of Eagle, Idaho real estate has surely been to Eagle Island State Park. This is one of many parks in the city and is home to many spring and summer activities. And now that the weather is getting warmer, it's time to take park in some activities. If you're game, there's one coming up very soon, the Pickled Feet Runs on March 27th through the 29th.
Activities in Eagle, Idaho: Pickled Feet Runs
This activity is a fixed-time race, meaning that race enthusiasts will run as many miles across this expanse of Eagle, Idaho real estate as they can within the space of 48, 24, 12 or 6 hours. They also have the option of doing a 100-mile distance run with a fixed distance.
Actual race days span from the 27th to the 29th of March. Run times for the 48 and 24 hour races range from 6 am to 6 pm. For the 12 and 6-hour options, racers can choose day or night jaunts. People who opt for the 100-mile fixed race have a 32-hour race time.
If you're interested, but have visions of running over all the hills and dales of this pristine spot of Eagle, Idaho real estate, never fear. The terrain is said to be mild.
According to BoiseEvents.Net, you can get 20% discount if you use the code CATHY at checkout.
Additionally, Eagle Island State Park offers your family plenty to do if they're not runners. They'll enjoy throwing some horseshoes, starting the barbecue or playing frisbee in the grass. Or they can act as volunteers for the Pickled Feet Runs.
Your entry comes with a free parking pass. Go to the Ultra Sign Up website  to sign up or for more information. You have to log in at Ultra Sign Up to register. If you don't have an account, you can create one for free.
Learn more about this park in Eagle, Idaho by watching the video below.

If you have your heart set on owning Eagle, Idaho real estate, you may be able to take advantage of home buyer incentives from Freddie Mac and Fannie Mae.
Info About the Home Buyers Incentives From Freddie Mac
Here's how the Freddie Mac program works. These incentives are to encourage people to buy condos in one of 27 states in the Freddie Mac program. You can get $500 from Freddie Mac to be used toward a home warranty, condo association dues or flood insurance premiums for offers submitted from February 18, 2014 and April 15, 2014.
The homes for sale in Eagle, Idaho that would not be eligible for this home buyer incentive would be houses bought with the intention of making them investment properties. Auction homes and bulk sales also don't qualify for the program.
Idaho is one of 27 states that are eligible for these Freddie Mac home buyer incentives. Other states include Michigan, Utah, New Jersey and Washington.
Contact us for a list of Eagle, ID homes  for sale that qualify for the Freddie Mac program.
Other Home Buyer Incentives ~ Other Ways to Own Eagle, Idaho Real Estate
In related news about home buyer incentives, Fannie Mae is offering to help with closing costs for REO homes. The program is part of its FirstLook program.
If you opt for a program like this, whether you buy one of the homes for sale in Eagle, Idaho or choose a home in neighboring cities like Meridian or Boise, you can receive up to 3 1/2% of the final sales price taken care of in your closing costs.
However, you have to jump to take advantage of this home buyer program. You have to make an offer by March 31 and close on your new home before May 31, 2014.
These programs could be your first steps to buying a house in Eagle, Idaho or a home for sale in the surrounding area.
Home sales in the Eagle Idaho real estate market for January through June 2012 were fairly consistent with 2011 sales, although May and June of 2012 showed decreases over 2011 sales of 23.2% and 6.6%, respectively.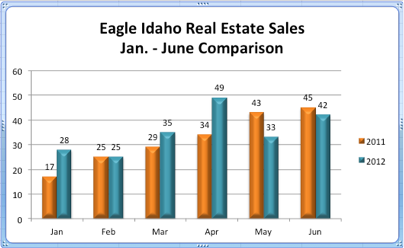 The most significant differences in the sale of real estate in Eagle Idaho are found in the decreasing number of foreclosure sales.  As illustrated in the graph below, in January 2012, there were 6 Eagle Idaho foreclosures compared to 8 in 2011. By May 2012, only 1 of the 33 Eagle ID real estates ales was a foreclosure, and in June only 3 of the 42 sales were foreclosures, much lower than the 10 of 43 and 15 of 45 recorded in May and June 2011.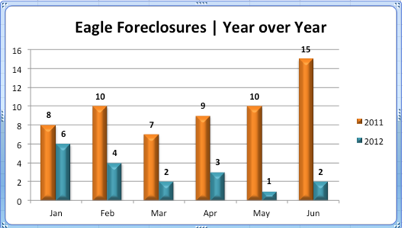 As a comparison, the market share of foreclosures on the Eagle Idaho real estate market for the months of January through June, 2009 to 2011, have generally been between 24% and 55%, with a high of 55% in January 2010 and a low of 24.1% in both May 2010 and March 2011. In 2012, though, we see a totally different trend. In January 2012, the market share of Eagle Idaho foreclosures was 21.4%. Although this represents the highest market share in 2012 to date, it is still below the lowest market share recorded for January through June for the last 4 years.  Since January there has been an almost steady decline to a record low foreclosure market share of 3.0% in May and 4.7% in June.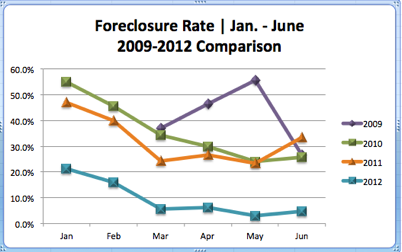 Eagle, ID real estate sales were strong beginning May 2011 but fell below 2010 levels in November and December of 2011.  The graph below shows the monthly sales in Eagle Idaho for 2011 compared to 2010.  Sales for the 3rd Quarter of 2011 rose 38% above 2010 levels but dropped 7% below 2010 levels for the 4th Quarter.  For the year overall, residential real estate sales for 2011 were the same as 2010.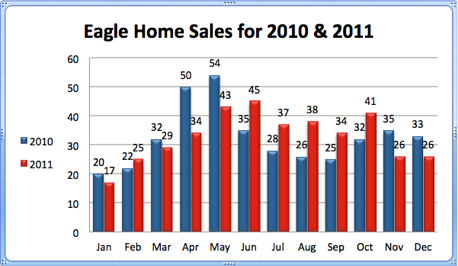 Although 2011 showed virtually no increase in the number of Eagle ID real estate sales when compared to 2010, the median home price in December 2011 was slightly higher than the median price in December of 2010.  As can be seen on the graph below, median home prices are trending upward, especially during the last quarter of 2011.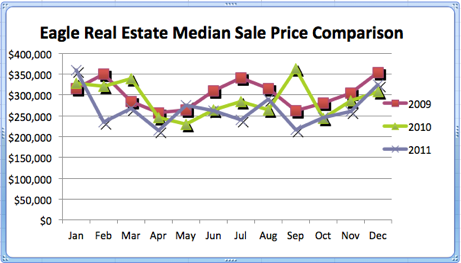 Another interesting trend in 2011 was the number of Non-Foreclosure sales compared to Eagle Short Sales and Eagle Bank-Owned property sales.  As depicted below, the majority of real estate sales in Eagle, ID for 2011 were Non-Foreclosures.  In fact, beginning in May, Non-Foreclosure sales accounted for more real estate sales than Short Sales and Bank-Owned properties combined.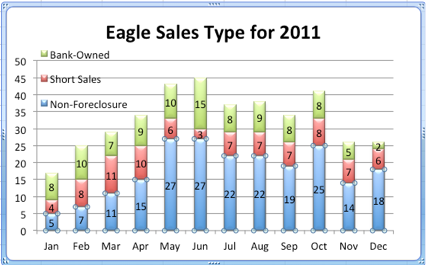 The Eagle ID real estate market in 2011 is about even with last year in terms of closings.  As you can see from the graph below, sales are above '08 & '09 levels.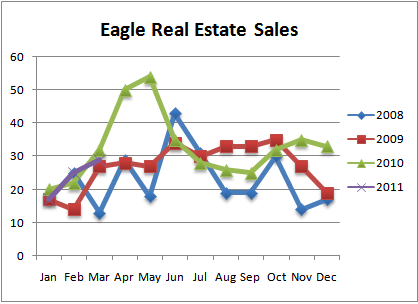 While there are fewer distressed properties on the market in Eagle they still attract the majority of sales.  In March '11, 62% of the sales were either Eagle ID Short Sales or Eagle ID Bank-Owned Real Estate.
As of 4/6/11, there are 195 single family homes for sale in Eagle Idaho – 55 are listed as short sales & 15 bank-owned homes.  The majority of these Eagle Idaho foreclosures are in the lower price ranges as the chart below shows.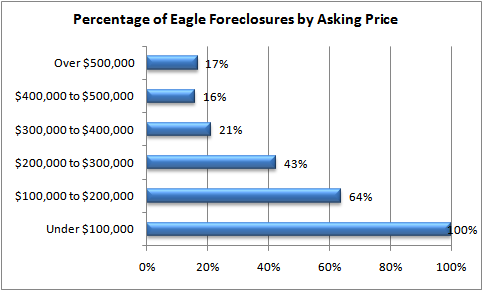 Here's a look at just the numbers:
| | | | | |
| --- | --- | --- | --- | --- |
| Eagle Idaho Real Estate | Total | Short Sales | REO | Percentage |
| Under $100,000 | 2 | 2 | 0 | 100% |
| $100,000 to $200,000 | 47 | 24 | 6 | 64% |
| $200,000 to $300,000 | 47 | 13 | 7 | 43% |
| $300,000 to $400,000 | 38 | 7 | 1 | 21% |
| $400,000 to $500,000 | 19 | 2 | 1 | 16% |
| Over $500,000 | 42 | 7 | 0 | 17% |
| Total | 195 | 55 | 15 | 36% |
–

The Eagle Idaho real estate market had 34 sales last month. This is up about 6% from a year ago while Ada County as a whole was up 12%.  With 252 homes for sale in Eagle, that's a 7.2 month absorption rate while the county was at 5.3 months.
Eagle Idaho real estate foreclosures accounted for 56% of the sales in June.  Nine of the 34 sales were short sales and ten were bank-owned.  This is higher than the county overall that had a 41% market share of foreclosures.
While Eagle Idaho foreclosures made up a larger percentage of the sales compared to the county, they actually make up a smaller percentage of the homes currently for sale – at least for bank-owned homes.
Eagle Idaho bank-owned homes currently make up 7% of the homes for sale.  The short sales on the other hand, make up 30% compared to 29% in the county. See the next two graphs: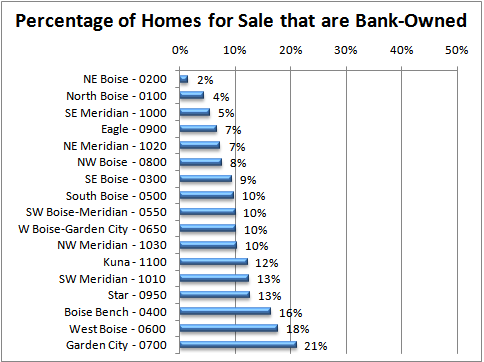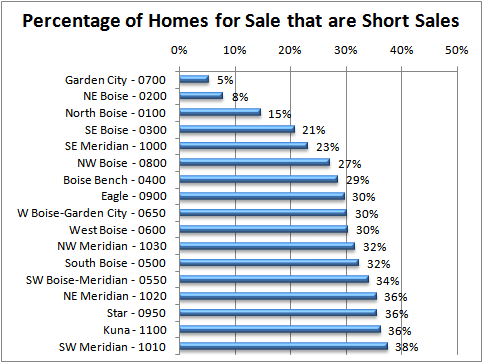 Search Eagle Idaho real estate, Eagle bank-owned property, and Eagle short sales.

The Eagle ID real estate market surged in April as in other areas of the county as the first-time home-buyer tax credit deadline expired.  Sales were up 46% over last year with 21 non-foreclosure sales, 9 short sales, and 16 bank-owned sales.  These Eagle ID foreclosures accounted for 54% of the market share, down slightly from the 60% a year ago but above the last 13 month average of 52%.
The graph below shows how Eagle ID real estate sales have performed January through April over the last 3 years.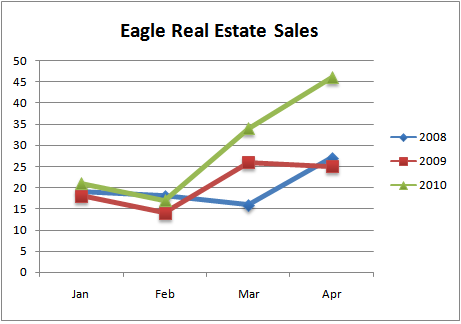 The chart below shows the market share of foreclosures in Eagle Idaho over the last year.  It should be noted that the months with a higher market share are also the months with stronger monthly sales.