The Eagle ID real estate market in 2011 is about even with last year in terms of closings.  As you can see from the graph below, sales are above '08 & '09 levels.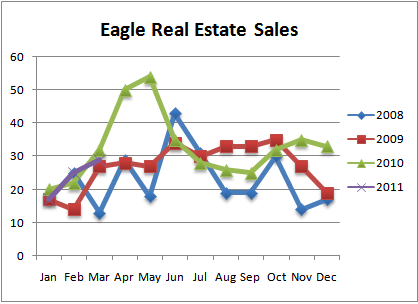 While there are fewer distressed properties on the market in Eagle they still attract the majority of sales.  In March '11, 62% of the sales were either Eagle ID Short Sales or Eagle ID Bank-Owned Real Estate.
As of 4/6/11, there are 195 single family homes for sale in Eagle Idaho – 55 are listed as short sales & 15 bank-owned homes.  The majority of these Eagle Idaho foreclosures are in the lower price ranges as the chart below shows.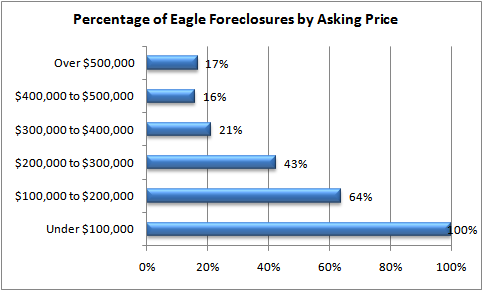 Here's a look at just the numbers:
| | | | | |
| --- | --- | --- | --- | --- |
| Eagle Idaho Real Estate | Total | Short Sales | REO | Percentage |
| Under $100,000 | 2 | 2 | 0 | 100% |
| $100,000 to $200,000 | 47 | 24 | 6 | 64% |
| $200,000 to $300,000 | 47 | 13 | 7 | 43% |
| $300,000 to $400,000 | 38 | 7 | 1 | 21% |
| $400,000 to $500,000 | 19 | 2 | 1 | 16% |
| Over $500,000 | 42 | 7 | 0 | 17% |
| Total | 195 | 55 | 15 | 36% |
–