Not long ago, I wrote about the challenges that homeowners and cit officials in Laguna Pointe (Eagle) were facing when it came to getting the Boise River Greenbelt through that subdivision. The issue is still raging on as KBOI News pointed out a couple of days ago, and the news site provided a recap.
Getting Up-to-Speed About Laguna Pointe in Eagle
To recap, many people who own Eagle, Idaho real estate in the neighborhood fear that the greenbelt will cut through their properties. When Laguna Pointe Subdivision was in its planning stages, the subdivision builders/ designers and the City of Eagle agreed that if the neighborhood came into being, the city had a right to put an easement to the Boise River Greenbelt in the neighborhood.
The problem? Apparently, the request for the easement was not filed properly with Ada County. Add to that, the Laguna Pointe Homeowners Association told KBOI that the easement was slated to run along the river, but the river itself has changed. So the city created an alternative path, but there's problems with that, too. People using the path are actually traipsing into people's backyards.
The matter is supposed to go before a judge on June 16th. Stay tuned.
Watch the video below to get a full recap of the issue thus far.
For those who love the recreational opportunities that parks like Eagle Island State Park offers, you'll be happy to learn that the City of Eagle or more specifically, the city's Department of Parks and Rec is considering a new sports complex.
Eagle Middle School = One Crowded Piece of Real Estate
According to KBOI2.com, coaches and parents have asked repeatedly for more play space. Sometimes up to 10 sports teams practice at Eagle Middle School on any given day, causing overcrowding. Or teams must go elsewhere to find play space, including church yards or even in other cities.
Parks and Rec Director Mike Aho has put together a plan for the Eagle City Council that calls for a task force to help develop the new complex. It would be a volunteer group consisting of a land developer, leaders of sports teams and other city members familiar with the parks.
Where Will You Find the Sports Complex on the Eagle City Map?
At the moment, the cost of the project is up in the air as is the location and how many fields the complex will add to the city. However, this development offers great news for the people looking at the homes for sale in Eagle, Idaho. Just like the city's medical services, popular restaurants and city markets, the addition of a sports complex would make playing and working in Eagle all the more attractive for those who live here.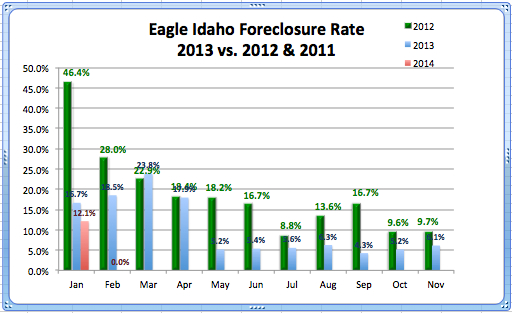 The Eagle, Idaho foreclosure rate fell to 0% February of 2014, a miraculous low among Ada County cities- unheard of for the last several years. As you can see in the graph above, the foreclosure rate was 12.1% in January and 0% in February; 18.5% lower than last February and 28% lower than 2012. In the last two and a half years the foreclosure rate started at 46% in January 2012 and dropped all the way down to 0%, a remarkable decline.
Not only was the foreclosure rate non-existent in February 2014, but the median home sales price is also staying in a competitive range. As you can see in the graph below, 2014 started with the highest median sales price in years at $358,500. Home value in Eagle is steadily rising- you can see that last January the median was $278,450. In one year it increased by 29%. Granted, median home sales prices vary month to month but you can see that each year the median line has risen from the previous years.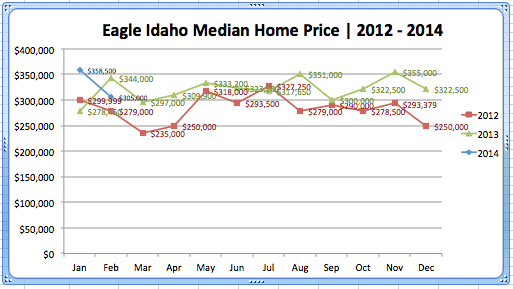 Real estate sales were slightly lower in February '14, 23 homes sold- a slight decrease of only 1.7%. However; in January sales were higher than they have been in the past three years. This is a strong start for  Eagle 2014 real estate. Historically, sales are lower the start the year and climb to a peak through the warmer/summer months (reflected in the graph below).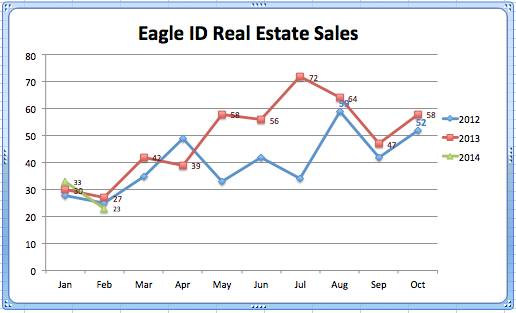 Among the homes sold in Idaho this year, there has been a miraculous balance between new and existing the last couple of months in Eagle; much more balanced than in other cities throughout the County. Only 24% of home sales were new construction in Meridian February '14, and only 31% of home sales were new construction in Boise. As you can see in the graph below, both January and February had an equal 50:50 ratio between new and existing home sales.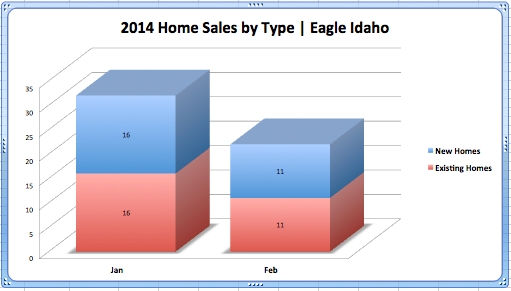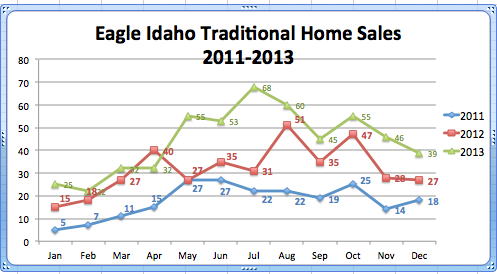 Although there have been similar high's and lows in real estate sales in Eagle through the past three years, there has been a consistent increase in sales within those expected ups and downs. As you can see in the graph above, there were 39 traditional home sales in December of '13, a 44% increase since '12. As you can see, December of 2012 also showed a 50% increase from the year prior; equaling an 84% increase in sales in just two years.
The most dramatic increase in traditional home sale numbers we saw in 2013 were seen in July-  68 homes sold, a 119% increase from July of 2012. Summer was hot for real estate- which was bound to drop slightly. However the rest of the year still had consistent increases in numbers each month compared to 2012.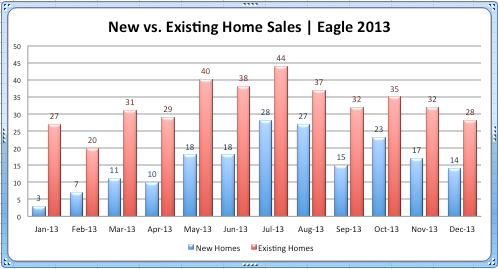 New home sales also increased throughout 2013; the year started with 3 new home sales in January, but ended in December with 14. On average, 32% of home sales were new and 68% were existing in 2013. As you can see however, the proportion was even in December when 50% of the home sales were new. This proportion seems even bigger when considering only 10% of home sales were new in January.
The highest peak we saw for new home sales for 2013 was in July, 28 new homes were sold (39% of home sales that month). Historically the warmer months tend to increase real estate sales, and the colder months (along with different factors such as the school year and holiday season) seem to encourage some potential buyers to wait.
The graph below gives us a clear picture of the proportion of short sales and bank owned homes vs. non foreclosures sold each month. Eagle has the lowest foreclosure rate in Ada county, this low proportion is reflected in the graph below. For example, in December of 2013, there was 1 short sale, 2 bank owned, and 39 non foreclosure sold. That means 93% of sales were traditional, 2% short sales, and 5% were bank owned.
You can see that throughout the entire year those numbers really only varied slightly. The highest foreclosure rate was in March when 7 bank owned homes sold, and 3 short sale homes sold. This means 23% of home sales were foreclosures; the highest we saw all year. The average foreclosure rate in Eagle, 2013 was 10.2% of sales, a 9.5% drop from 2012. The average foreclosure rate in 2012 was 19.7%.

As you can see in the graph below Eagle, Idaho real estate sales are higher this year than they were in 2011 and 2012. In October there were 58 homes sold in Eagle compared to 52 sold in October of the previous year. That's an 11% increase, which shows sales are continuing to increase in a stabilized market. At the peak of the market in July of this year, 72 homes were sold in Eagle, which is a 111% increase from 2012. It then slightly decreased for a couple of months, which is normal in late summer. It has since then picked back up this Fall.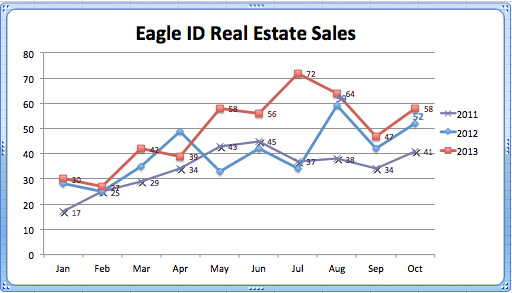 Along with an increase in real estate sales in 2013, the median home sales price has also increased. In October of 2013 the median home sales price was $322,500. In Comparison to October of 2012, the median home sales price was $278,500, which is an increase of 11.5%. In January of 2013 the median home sales price was $278,450 and increased steadily through the year by about 16%. The average median home sales price in 2013 is 12% higher than the average median home sales price from 2012.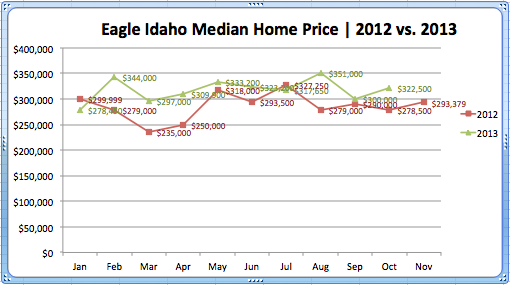 As you can see in the graph below, the Eagle Foreclosure rate has dropped tremendously in the last 3 years. In January of 2011 there was a 70.6% foreclosure rate compared to 5.2% in October of 2013. In the last three years the foreclosure rate has dropped 65.8%. This year alone the foreclosure rate has dropped from 16.7% in January to 5.2% in October. Between 2011 and 2013 we went from an unhealthy market with a very high foreclosure rate, to a healthy and stabilized market with a very low foreclosure rate.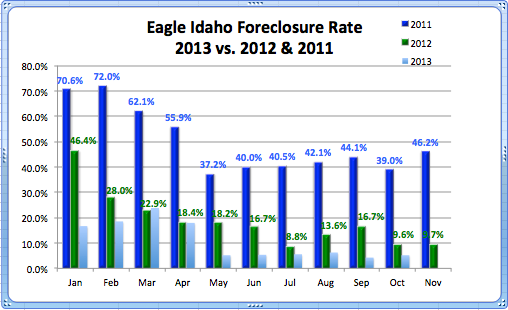 Home sales this year in the Eagle Idaho real estate market have already surpassed last year's sales at the same time.  There have been 430 home sales this year in Eagle.  Last year, through November, there were 369.  In fact, total home sales in 2011 amounted to 395, so the margin between 2011 and 2012 will continue to widen once December market stats are gathered.  The chart below shows total real estate sales since 2008, and each year the numbers have grown.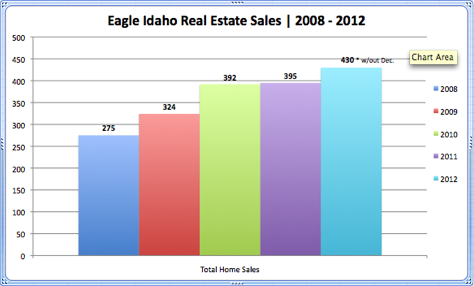 Eagle Idaho real estate has been particularly popular in the Banbury Meadows subdivision.  Banbury has posted the most sales for a given subdivision with 28.  The median price for a home in this subdivision is $368,800.  That is higher than the overall median posted this past month for real estate in Eagle Idaho, which was $293,379.  The chart below shows the type of sales in the Banbury Meadows subdivision so far this year.  And while non-foreclosure sales are dominant, the foreclosure market share at Banbury Meadows has been 25% in 2012.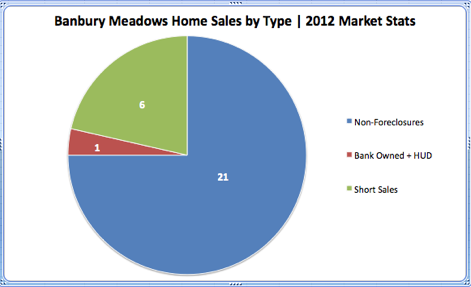 The overall foreclosure market share in the Eagle Idaho real estate market is actually lower than what's been posted for Banbury Meadows.  This past November the numbers were similar to October, at 9.7%.  Still, the average foreclosure rate for this year is right around 19%.  But, as you can see in the chart below, Eagle foreclosures have consistently been lower than 19% since April.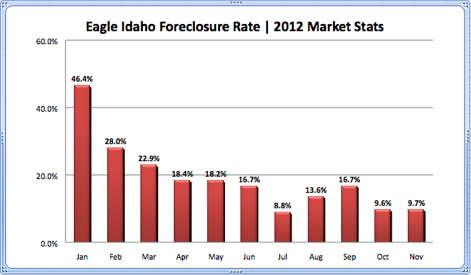 Home sales in the Eagle Idaho real estate market for January through June 2012 were fairly consistent with 2011 sales, although May and June of 2012 showed decreases over 2011 sales of 23.2% and 6.6%, respectively.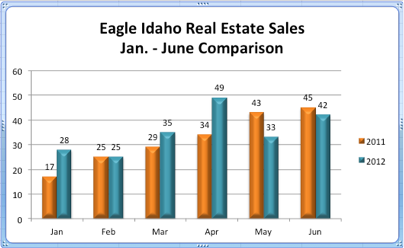 The most significant differences in the sale of real estate in Eagle Idaho are found in the decreasing number of foreclosure sales.  As illustrated in the graph below, in January 2012, there were 6 Eagle Idaho foreclosures compared to 8 in 2011. By May 2012, only 1 of the 33 Eagle ID real estates ales was a foreclosure, and in June only 3 of the 42 sales were foreclosures, much lower than the 10 of 43 and 15 of 45 recorded in May and June 2011.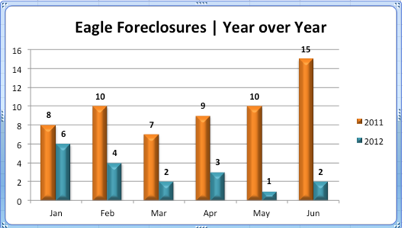 As a comparison, the market share of foreclosures on the Eagle Idaho real estate market for the months of January through June, 2009 to 2011, have generally been between 24% and 55%, with a high of 55% in January 2010 and a low of 24.1% in both May 2010 and March 2011. In 2012, though, we see a totally different trend. In January 2012, the market share of Eagle Idaho foreclosures was 21.4%. Although this represents the highest market share in 2012 to date, it is still below the lowest market share recorded for January through June for the last 4 years.  Since January there has been an almost steady decline to a record low foreclosure market share of 3.0% in May and 4.7% in June.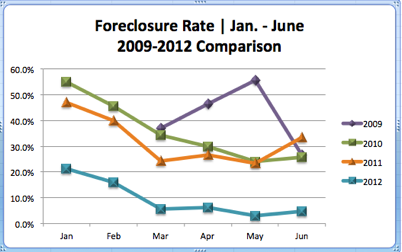 The Eagle ID real estate market in 2011 is about even with last year in terms of closings.  As you can see from the graph below, sales are above '08 & '09 levels.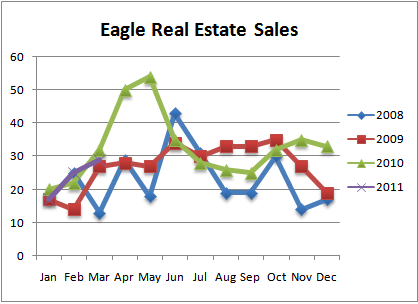 While there are fewer distressed properties on the market in Eagle they still attract the majority of sales.  In March '11, 62% of the sales were either Eagle ID Short Sales or Eagle ID Bank-Owned Real Estate.
As of 4/6/11, there are 195 single family homes for sale in Eagle Idaho – 55 are listed as short sales & 15 bank-owned homes.  The majority of these Eagle Idaho foreclosures are in the lower price ranges as the chart below shows.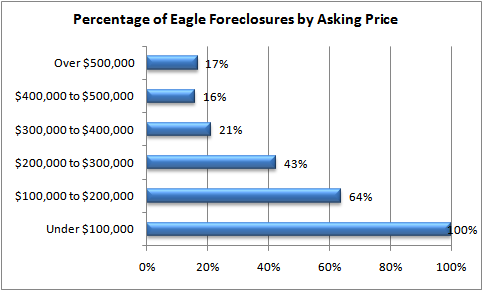 Here's a look at just the numbers:
| | | | | |
| --- | --- | --- | --- | --- |
| Eagle Idaho Real Estate | Total | Short Sales | REO | Percentage |
| Under $100,000 | 2 | 2 | 0 | 100% |
| $100,000 to $200,000 | 47 | 24 | 6 | 64% |
| $200,000 to $300,000 | 47 | 13 | 7 | 43% |
| $300,000 to $400,000 | 38 | 7 | 1 | 21% |
| $400,000 to $500,000 | 19 | 2 | 1 | 16% |
| Over $500,000 | 42 | 7 | 0 | 17% |
| Total | 195 | 55 | 15 | 36% |
–

The Eagle Idaho real estate market had 34 sales last month. This is up about 6% from a year ago while Ada County as a whole was up 12%.  With 252 homes for sale in Eagle, that's a 7.2 month absorption rate while the county was at 5.3 months.
Eagle Idaho real estate foreclosures accounted for 56% of the sales in June.  Nine of the 34 sales were short sales and ten were bank-owned.  This is higher than the county overall that had a 41% market share of foreclosures.
While Eagle Idaho foreclosures made up a larger percentage of the sales compared to the county, they actually make up a smaller percentage of the homes currently for sale – at least for bank-owned homes.
Eagle Idaho bank-owned homes currently make up 7% of the homes for sale.  The short sales on the other hand, make up 30% compared to 29% in the county. See the next two graphs: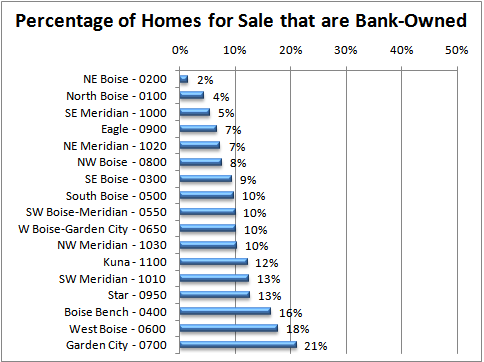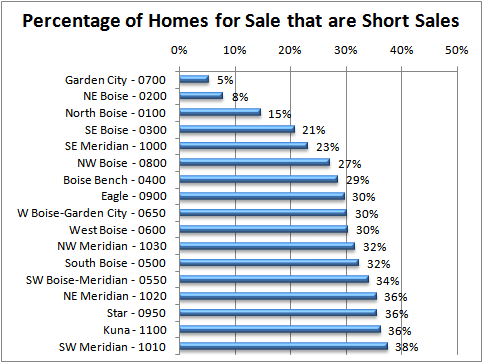 Search Eagle Idaho real estate, Eagle bank-owned property, and Eagle short sales.

The Eagle Idaho real estate market had 37% more sales last month than the same time a year ago.  When comparing 2009 to 2008, Eagle real estate sales were up 17.5%.  This surpassed the county's' improvement that saw a year-over-year increase of 7%.
Eagle Idaho foreclosure properties continue to play a large role in the market. Last month, 37% of the home sales were foreclosures.  However, this is down from the 50-60% market share they comprised in the spring.  Compared to other parts of the county, Eagle's foreclosure market was one of the lowest while Star was the highest with over 70% of the sales being foreclosures.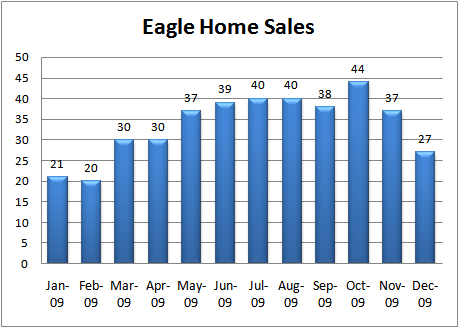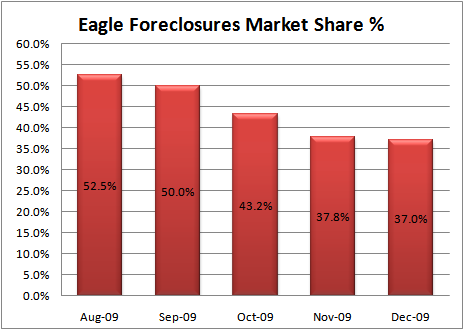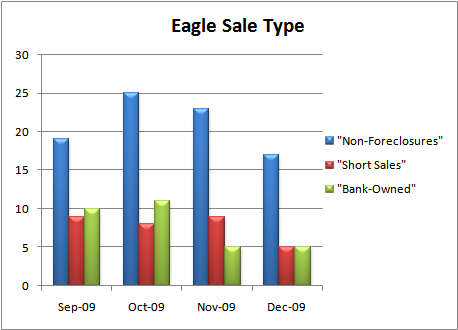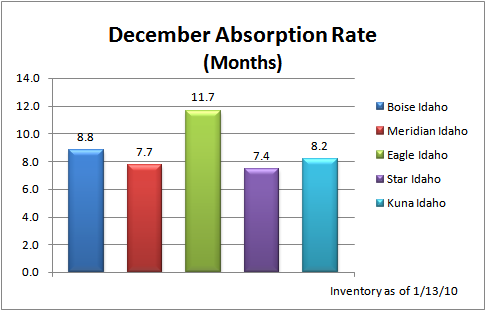 Information gathered from IMLS and is not guaranteed.