Home sales this year in the Eagle Idaho real estate market have already surpassed last year's sales at the same time.  There have been 430 home sales this year in Eagle.  Last year, through November, there were 369.  In fact, total home sales in 2011 amounted to 395, so the margin between 2011 and 2012 will continue to widen once December market stats are gathered.  The chart below shows total real estate sales since 2008, and each year the numbers have grown.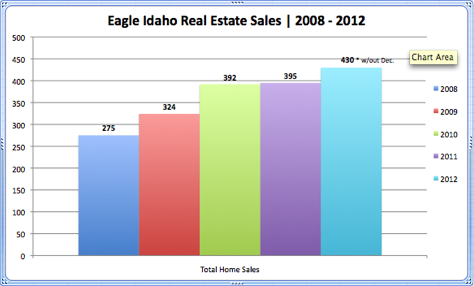 Eagle Idaho real estate has been particularly popular in the Banbury Meadows subdivision.  Banbury has posted the most sales for a given subdivision with 28.  The median price for a home in this subdivision is $368,800.  That is higher than the overall median posted this past month for real estate in Eagle Idaho, which was $293,379.  The chart below shows the type of sales in the Banbury Meadows subdivision so far this year.  And while non-foreclosure sales are dominant, the foreclosure market share at Banbury Meadows has been 25% in 2012.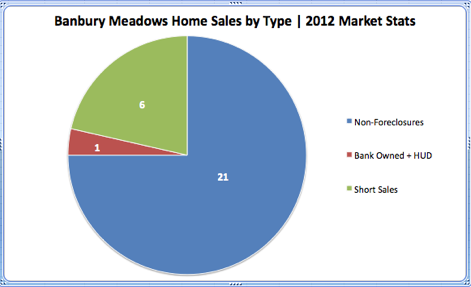 The overall foreclosure market share in the Eagle Idaho real estate market is actually lower than what's been posted for Banbury Meadows.  This past November the numbers were similar to October, at 9.7%.  Still, the average foreclosure rate for this year is right around 19%.  But, as you can see in the chart below, Eagle foreclosures have consistently been lower than 19% since April.