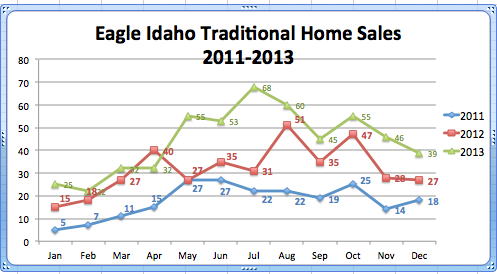 Although there have been similar high's and lows in real estate sales in Eagle through the past three years, there has been a consistent increase in sales within those expected ups and downs. As you can see in the graph above, there were 39 traditional home sales in December of '13, a 44% increase since '12. As you can see, December of 2012 also showed a 50% increase from the year prior; equaling an 84% increase in sales in just two years.
The most dramatic increase in traditional home sale numbers we saw in 2013 were seen in July-  68 homes sold, a 119% increase from July of 2012. Summer was hot for real estate- which was bound to drop slightly. However the rest of the year still had consistent increases in numbers each month compared to 2012.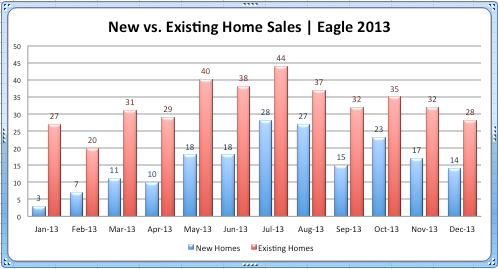 New home sales also increased throughout 2013; the year started with 3 new home sales in January, but ended in December with 14. On average, 32% of home sales were new and 68% were existing in 2013. As you can see however, the proportion was even in December when 50% of the home sales were new. This proportion seems even bigger when considering only 10% of home sales were new in January.
The highest peak we saw for new home sales for 2013 was in July, 28 new homes were sold (39% of home sales that month). Historically the warmer months tend to increase real estate sales, and the colder months (along with different factors such as the school year and holiday season) seem to encourage some potential buyers to wait.
The graph below gives us a clear picture of the proportion of short sales and bank owned homes vs. non foreclosures sold each month. Eagle has the lowest foreclosure rate in Ada county, this low proportion is reflected in the graph below. For example, in December of 2013, there was 1 short sale, 2 bank owned, and 39 non foreclosure sold. That means 93% of sales were traditional, 2% short sales, and 5% were bank owned.
You can see that throughout the entire year those numbers really only varied slightly. The highest foreclosure rate was in March when 7 bank owned homes sold, and 3 short sale homes sold. This means 23% of home sales were foreclosures; the highest we saw all year. The average foreclosure rate in Eagle, 2013 was 10.2% of sales, a 9.5% drop from 2012. The average foreclosure rate in 2012 was 19.7%.

Eagle, ID real estate sales were strong beginning May 2011 but fell below 2010 levels in November and December of 2011.  The graph below shows the monthly sales in Eagle Idaho for 2011 compared to 2010.  Sales for the 3rd Quarter of 2011 rose 38% above 2010 levels but dropped 7% below 2010 levels for the 4th Quarter.  For the year overall, residential real estate sales for 2011 were the same as 2010.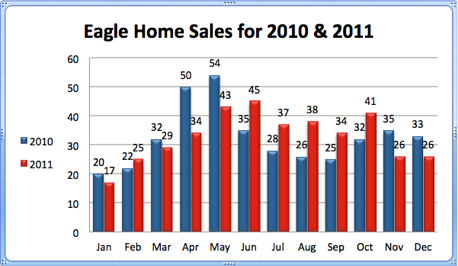 Although 2011 showed virtually no increase in the number of Eagle ID real estate sales when compared to 2010, the median home price in December 2011 was slightly higher than the median price in December of 2010.  As can be seen on the graph below, median home prices are trending upward, especially during the last quarter of 2011.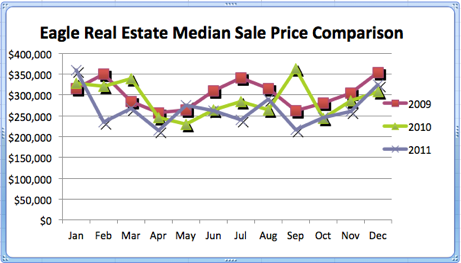 Another interesting trend in 2011 was the number of Non-Foreclosure sales compared to Eagle Short Sales and Eagle Bank-Owned property sales.  As depicted below, the majority of real estate sales in Eagle, ID for 2011 were Non-Foreclosures.  In fact, beginning in May, Non-Foreclosure sales accounted for more real estate sales than Short Sales and Bank-Owned properties combined.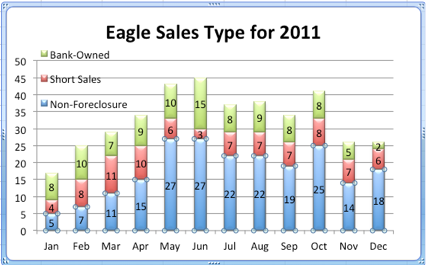 Eagle home sales had another solid month in September, with 38 homes sold.  This is down slightly from the 40 homes sold in August.  The chart below shows total sales for the last five months in the Eagle, ID real estate market: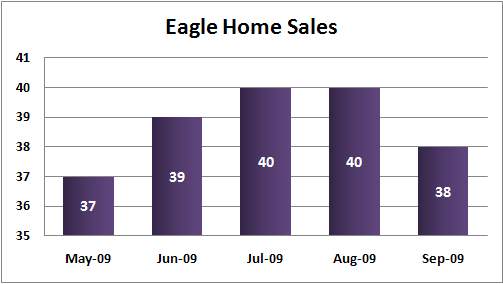 Out of these 38 homes sold in the Eagle, ID real estate market, 10 of these were bank-owned properties and 9 were Eagle short sales, which makes a foreclosure rate of 50%.  This is a pretty typical percentage for the past five months, as shown in the following graph: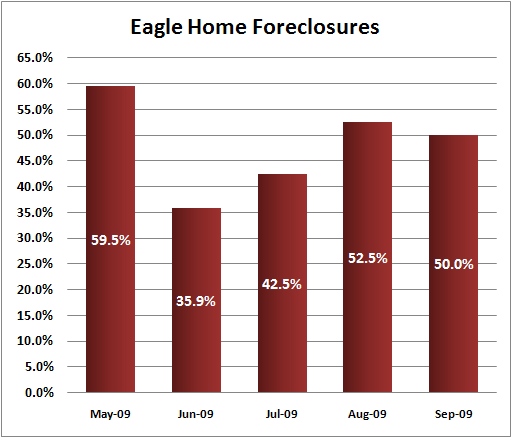 Although there was a slight drop in home sales from August to September, the average existing home price in the Eagle, ID real estate market increased by almost $40,000 over this same time.  As the graph below shows, there has been an upward trend in the average prices of houses over the past five months: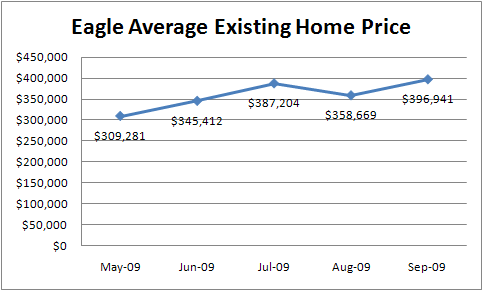 Data source:  Boise MLS (IMLS).  Information not guaranteed.