The Eagle ID real estate market surged in April as in other areas of the county as the first-time home-buyer tax credit deadline expired.  Sales were up 46% over last year with 21 non-foreclosure sales, 9 short sales, and 16 bank-owned sales.  These Eagle ID foreclosures accounted for 54% of the market share, down slightly from the 60% a year ago but above the last 13 month average of 52%.
The graph below shows how Eagle ID real estate sales have performed January through April over the last 3 years.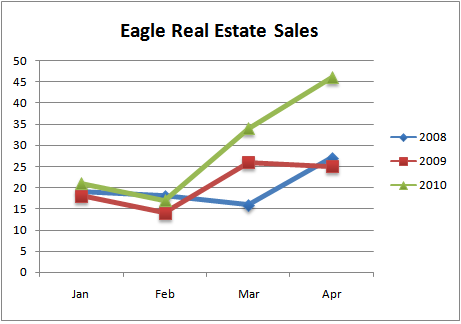 The chart below shows the market share of foreclosures in Eagle Idaho over the last year.  It should be noted that the months with a higher market share are also the months with stronger monthly sales.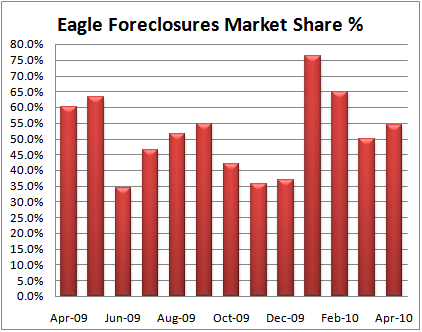 The Eagle Idaho real estate market has been gaining steam in recent months.  Below are the Eagle ID real estate stats from January through April.
Eagle Idaho Real Estate
Jan-09
Feb-09
Mar-09
Apr-09

Eagle ID New Home Sales

1

2

3

4

Average Eagle Home Price

300600

472500

 

$

    

342,733

 

$

 

328,775

Median Eagle Home Price

300600

545000

 

$

    

410,000

 

$

 

485,000

Eagle ID Existing Homes Sales

15

14

21

23

Average Eagle Home Price

357913

342,685

 

$

    

302,726

 

$

 

292,795

Median Eagle Home Price

390000

332,000

 

$

    

277,000

 

$

 

255,500
Search Eagle Idaho Real Estate for with no registration required.
Data Source: IMLS. Information not guaranteed.